Happy Forth of July! Let Freedom Ring!
Jason and I went camping for the first time together for the 4
th
of July weekend. We stayed 3 nights. It was strange getting into a tent with Jason for the first time! I had never been co-ed camping- at least not in the same tent, but it was totally legal! We had a pretty good time except for the 2
nd
night our neighbors were drunk and screaming cuss words loudly. Jason went over and talked with them and got them calmed down. The 2 guys and 1 girl all tried to hug him. They promptly got kicked out of the camp the next morning!
Pictures of our camp sight.
We brought our own wood from my mom's large stack and that saved us a lot of money. We thought we'd have enough to leave for the next campers, but the last evening went wood hunting afraid we wouldn't have enough for us, but left some of that as a gift.
Jason kicking it in the tent. We brought 5 or so egg cartons to sleep on and each night tried a different configuration. We each thought a different night was best.
Jason was the master cook over the fire in his big pan. For breakfast, bacon, pancakes and scrambled eggs. Yummy! Dinner was hot dogs or
chili
. Of course we made
S'mores
the second night. We forgot quite a few things like plates, a knife, ketchup, etc, but we have a list for next time!
We brought some black sunflower seeds and left piles for the furry creatures. We had 2 chipmunks as regular visitors. One was a mommy, clearly larger than her youngster. They scrambled under our feet and hid in the wood pile. At the end we gave them
peanuts
, apples, and
pistachios
. They have there winter storage thanks to us! We also saw a wild momma turkey and her baby, and a few deer too. The day we left there was a bear sighting a half a mile from camp. Jason and I commented how entertained we were by them, while in town back in real life, we needed movies, TV, etc to do the job. The human race started out living primitively and with all this progress, including a man on the moon, we still want to go back to our roots for some reason, perhaps to get back to God.
We also went into the nearby towns of
Cle
Elum
, Rosalyn, and Ronald. Rosalyn is by far the cutest. It was the setting for the make believe "Cicely, Alaska" in the TV show Northern Exposure. There were many houses for sale and rent in each town. Some were cute with great prices. High end homes are also going in and already there in neighborhoods. It was fun to look at them and think of what it would be like to live there. We just don't know what we'd do to make money.
Cle
Elum
has a big forth party and one thousand people show up to the parade, fireworks and booths. The streets were lined with cars and people!
The above picture was taken from the
LDS
church in
Cle
Elum
.
Pine cones still on the trees!
The lake was high this year.
I love pictures like this! It's not the first I've seen of it's kind here in Western Washington.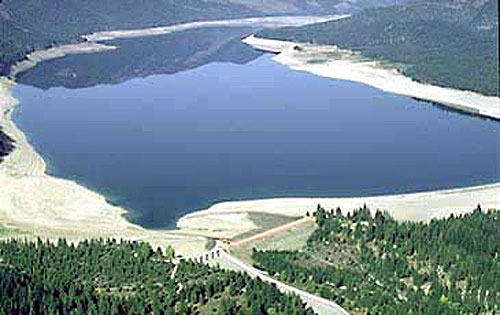 This is what the lake has looked like in years past! Got this picture from the
internet
. What sand we could find as real. We'd love to go back and play on a different kind of summer.
This stained glass window was on the Seventh Day Adventist Church in
Cle
Elum
. It was a small white church with just a steeple and no cross. I like that!
We had a great time and although we were tired of doing the work to cook over the camp fire, we were sad to leave and go back to reality. I'd suggest going to camp there to any one.